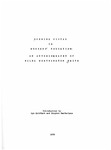 Description
Introduction by Lyn Goldfarb and Stephen Macfarlane.
Table of Contents: Early Years On a College Campus Through City Courts and Employment Bureaus Country People; Two Hundred Orphans; A Comnunity Center; A Dean's Job; A School for Women Workers in Industry; More Schools for Workers; What Dreams May Grow; Years of Depression; An Office in Washington: Federal Funding for Workers' Education; War Housing 1943-1945; Learning to Lobby; My Years in OEO
Citation
Smith, Hilda Worthington, Opening Vistas in Worker's Education: An Autobiography of Hilda Worthington Smith. Washington, D.C.: self-published, 1978.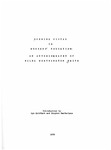 COinS