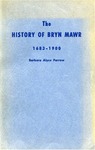 Description
Based on a thesis submitted in 1957 to Westminster College, New Wilmington, Pennsylvania.
CONTENTS: Foreword (by Catherine Drinker Bowen); Preface; I-Introduction; II-Geography and Background; III-"Bryn Mawr" and "Harriton"; IV-Humphreysville; V-Roads; VI-Railroads; VII-Taverns, Hotels, and Inns; VIII-Development of Bryn Mawr; IX-The Religious Life; X-Education; XI-Town Development; XII-Conclusion; Index.
Citation
Farrow, Barbara Alyce. The History of Bryn Mawr, 1683-1900. Bryn Mawr, PA: Committee of Residents and Bryn Mawr Civic Association, 1962.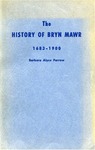 Included in
COinS